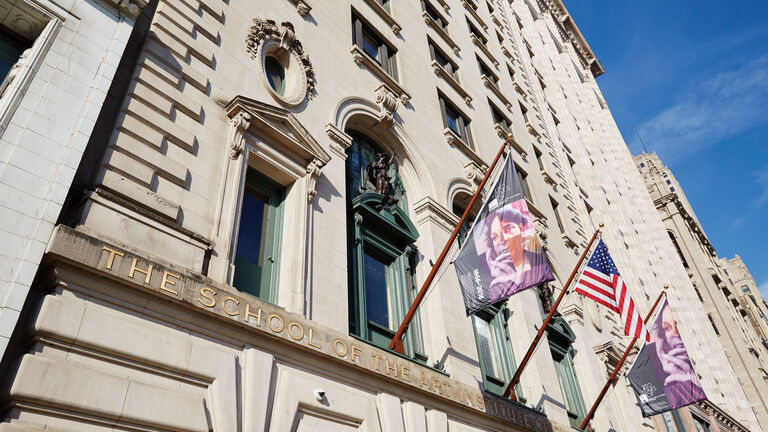 Interview Day Agenda 2023
Saturday, February 11, 2023

Congratulations on your invitation to interview with SAIC! Below you will find information on the events planned for students throughout Interview Day. 
Departmental Interviews
Candidates will receive specific instructions from their department(s) about how to reserve an interview time, options for an on campus in-person interview or virtual interview, and other important information about Interview Day. If you need to contact your department, their information is listed at the bottom of this page.
Graduate Student Reception
Saturday, February 11, 2023
4:00 – 6:00 p.m.

MacLean Ballroom
112 S Michigan Ave.
Chicago IL 60603

RSVP

Join us on campus in Chicago for a casual reception to meet and mingle with other applicants across graduate programs. Light refreshments will be served.
Student Financial Services (SFS) Meetings
Saturday, February 11, 2023
LeRoy Neiman Student Center
37 S. Wabash Ave.,
Chicago, IL 60603

Student Financial Services will offer live presentations about financial aid resources at 11:00 a.m. and 2:00 p.m.

Throughout the day, Student Financial Services counselors will also be available to answer individual questions from 10:00 a.m. through 4:00 p.m. No advance appointment necessary.

You may also watch a pre-recorded info session here.
In-Person Campus Tours
Friday, February 10, 1:30 p.m. CT

RSVP

The Friday Campus Tour will depart from SAIC Galleries, 33 E. Washington St. Chicago, IL 60603. Please arrive 15 minutes prior to the start of the tour for check-in.

Saturday, February 11, 10:00 a.m. and 3:00 p.m. CT

No registration necessary

Saturday Campus Tours on Interview Day will depart from the Neiman Center at 37 S. Wabash Ave., Chicago, IL 60603. Please arrive 15 minutes prior to the start of the tour.
Virtual Studio Visits
Friday February 10, 2023
5:00 – 7:00 p.m. CT
Join us

Join us for a series of live virtual studio visits between current graduate students across departments, interviewing each other about their artistic practices and life at SAIC. These interdisciplinary conversations are an opportunity for you to learn more about the SAIC community, connect with current graduate students and fellow applicants, and break the ice prior to Interview Day. This event will include MFA students from Art and Technology Studies, Fashion, Film, Video, New Media & Animation, Performance and Sound, showing their studio spaces and sharing their work. Four pairs of artists will each have a 20-minute conversation.

Participating Artists:
Juliana Castro Duperly, Arts and Technology Studies, 2nd year
Stephanie Ann Patsula, Sound, 1st year
Akshaj Kilewala, Performance, 1st year
Gordon Dic-Lun Fung, Film, Video, New Media, and Animation, 1st year
Mao Chenhui, Performance, 2nd Year
Tefo Tlhaloe, Film Video New Media and Animation, 2nd year
Departmental Activities
Please contact your individual departments for more information on these events.
If you have any questions, please feel free to contact our admissions office at 1.800.232.7242, 312.629.6100, or gradmiss@saic.edu.