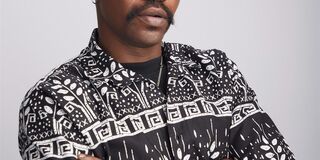 Virtual Studio Talk with Artist Affen Segun
Join us for a glimpse inside artist Affen Segun's studio through a virtual talk with the artist on Friday, November 17th at 4pm. Based in Nigeria, Affen's current solo exhibition debut in the US is "For We Are Kings: Timeless Transfers of Generational Joy, Happiness, and Swag", on view at Elephant Room Gallery through Nov. 25th. The exhibition seeks to highlight positive emotions and unique cultural experiences between multiple generations of black descendants, connecting past to present and taking an explorative look at what it might mean to confidently bask in black ancestral power today.  Affen is a part of Golden Our Collective, an arts agency working to bridge the wide art equity gap by elevating black creatives at scale. Following the talk, guests are invited to view the exhibition at the gallery, located at 704 S Wabash Ave., Chicago.
Affen Segun was born in 1993 in Lagos, Nigeria. A native of Bayelsa State, he discovered his love for art at a young age, and later got enrolled in a roadside art shop to start to hone his skills. Affen is a contemporary artist who is motivated by Black culture and sees Black Culture, his culture, as a source of inspiration for his art. His passion for creating portraits brought to life through the use of acrylic hues, African patterned fabrics and his ability to capture emotions on the faces of his muses has attracted a large audience for his works (over 18K Instagram followers). Affen has created paintings for several Nigerian celebrities such as, Mayorkun, Skiibii, Zlatan, Davido, Wizkid and others. Affen is an artist on the rise and has been internationally recognized and awarded for his talent. His work can be seen on 
artsy.com
 and other online galleries as well as in private collections in the UK, Nigeria, USA, Canada, Philippines, France, and more.
Affen's exhibition is a collaboration between Golden Our Collective and Elephant Room Gallery and this program is presented in collaboration with the SAIC Department of Exhibitions and Exhibition Studies. "For We Are Kings: Timeless Transfers of Generational Joy, Happiness, and Swag" is sponsored by Elizabeth and Lincoln Ellis, Ogechi Harry, Frame Chicago and Get Rooted In Printing. Inc.