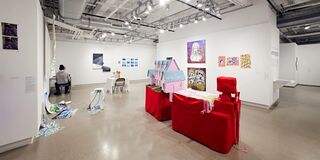 Fall Undergraduate Exhibition, November 3–17, 2023
The
Fall Undergraduate Exhibition
showcases the culminating work of more than 110 graduating seniors. This exhibition features the ambitious and innovative interdisciplinary work of our students, the next generation of artists, designers, scholars, and citizens. It is a living example of the crossing of disciplines and challenging assumptions that SAIC encourages in each student.
Exhibition Dates: November 3–17 
Public Reception: Saturday, November 4, 12:00 p.m.–5:00 p.m.
SAIC Galleries,
33 E. Washington St
.
Free and open to the public.
Monday–Saturday, 11:00 a.m. – 6:00 p.m.
Image: 2022 Fall Undergraduate Exhibition