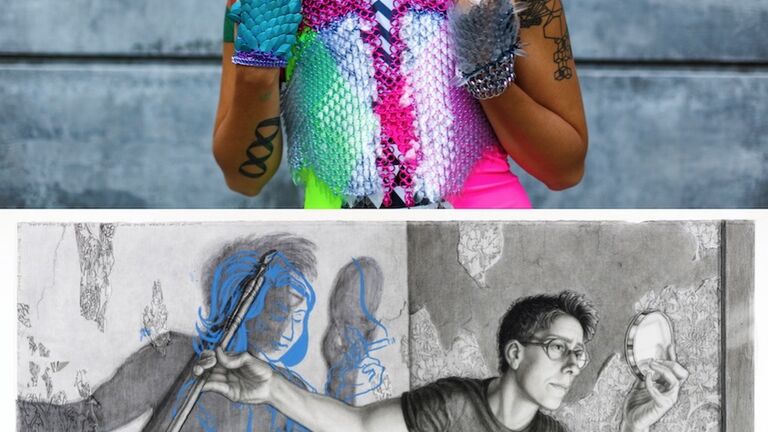 SAIC Alum and Faculty Named Fellows for Disability Futures
Sky Cubacub (BFA 2015), SAIC Assistant Professor, Adj. Riva Lehrer (SAIC 1993-95), and Perel (MFA 2010) were awarded the first and only national award for disabled artists. Disability Futures Fellows, established by the Ford Foundation and the Andrew W. Mellon Foundation, distributed a $50,000 grant for each artist to "shed light on the dearth of visibility of disabled creatives and position these creatives as leaders for accessibility, language, and care." The main objective of the fellowship is to address the lack of professional opportunities and financial stability for disabled artists, prompting more attention and excitement for these multidisciplinary narratives. Hyperallergic spotlighted several of these artists' works, including Cubacub and Lehrer: 
"A Filipinx nonbinary person throws back their head and smiles joyously. They have tan skin and wear a magenta, purple, and turquoise headpiece ma de of metallic scales. They're wearing a magenta and green chain link top with protruding sculptural shoulders, colorful gloves with metallic scales, and purple lipstick."
"Alison Bechdel, a barefoot white person with short dark hair, round glasses, cuffed pants, and a t-shirt, kneels in an aged room. She extends one arm behind her and holds a paintbrush against the wall. The other arm holds a small round mirror to her face as she looks contemplatively. Bechdel is painting a blue outline of a woman smoking and reading a book on the wall and floor behind her."