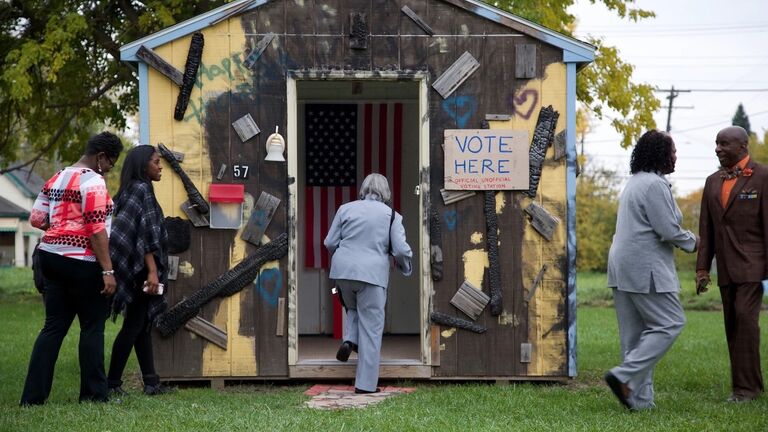 Faculty Member Aram Han Sifuentes's Work Addresses Voting Barriers 
Newcity Art recently featured Associate Professor, Adj., Aram Han Sifuentes's (MFA 2013) works on voter ineligibility issues. For the 2016 presidential election, to address the 29 percent of people in the U.S. and its territories who cannot legally vote, Sifuentes and other collaborators created site-specific Official Unofficial Voting Stations in the U.S. and Mexico, asking neighborhoods, museums, and prisons to design their own voting stations. As Sifuentes said, she wants to change the rhetoric that people can simply change things by protesting or voting as it "further makes those who can't, who don't feel safe going to protests because maybe of their immigration status or people who can't legally vote, it makes us even more invisible."
For Sifuentes, this issue is personal. An emigrant from South Korea in 1992, Sifuentes recently obtained citizenship in the U.S. and is only now eligible to vote. This year, for the 2020 election, Sifuentes has launched Voting Kits for the Disenfranchised, which will send free pedagogical toolkits to anyone who requests one, thanks to a donation drive on 3Arts, so anyone can set up their own voting station. These toolkits will contain ballot boxes and infographics, wristbands, voting stickers, a vinyl record by SAIC Lecturer Sadie Woods (MFA 2016), handmade banners, and screen-printed posters.