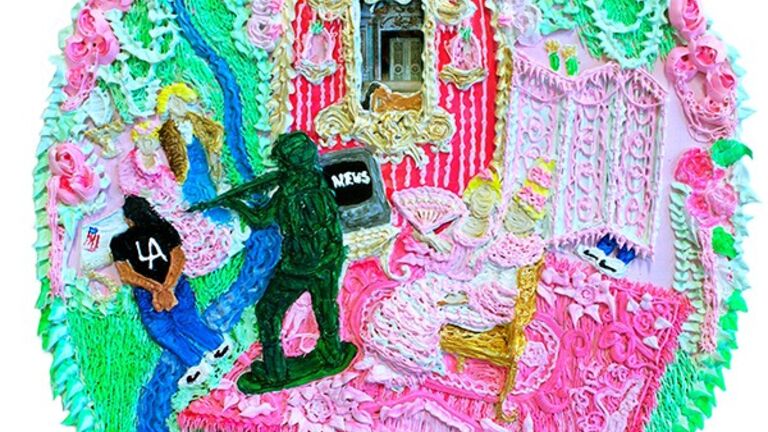 Yvette Mayorga Featured in Reader Cover Story
Yvette Mayorga (MFA 2016) brings her technicolor vision to this week's Chicago Reader cover story. The piece looks at how she channels her experience as a first-generation Mexican growing up surrounded by bakers into colorful and politically rich pieces that drip with her signature faux frosting.
"I'm interested in having the viewer think that they're going to experience something maybe sensory or decadent," she says. "But then, through being attracted to the colors, to the smell, they discover that the work is about something else, something more profound, something darker. In that same sense it's also a metaphor to the illusion of the American dream, that America itself can seem to be something very decadent, luscious, promising to somebody coming from another country. But, you know, it can fall short of that."
As the article notes, SAIC played an integral part in nurturing Mayorga while she honed her vision. Her time here even led to some unexpected opportunities. For instance, Allison Glenn(Dual MA 2012), associate curator of contemporary art at Crystal Bridges Museum of American Art in Bentonville, Arkansas, remembered Mayorga's work from the 2016 MFA Show. When putting together Out of Reach, a local cross-institutional show highlighting the art of women of color, Mayorga was one of the women she approached. Mayorga's work is currently on display at Gallery 400 at the University of Illinois at Chicago, as part of that show.