An artist helps youths creatively express their thoughts on a water crisis; a library offers protest banners that can be checked out like books; a performance provokes deep personal and social inquiry; and the stories of people excluded from history are elements of the creative practices of four SAIC artists who embody the term "citizen artist." While their methodologies, media, and creative output may differ, as citizen artists Anida Yoeu Ali (MFA 2010), Lecturer Aram Han Sifuentes (MFA 2013, Liberal Arts and Fiber and Material Studies), Assistant Professor Jan Tichy (MFA 2009, Photography and Art and Technology Studies), and Apichatpong Weerasethakul (MFA 1998, HON 2011) engage with civic and social issues to make a positive impact on their community and the world.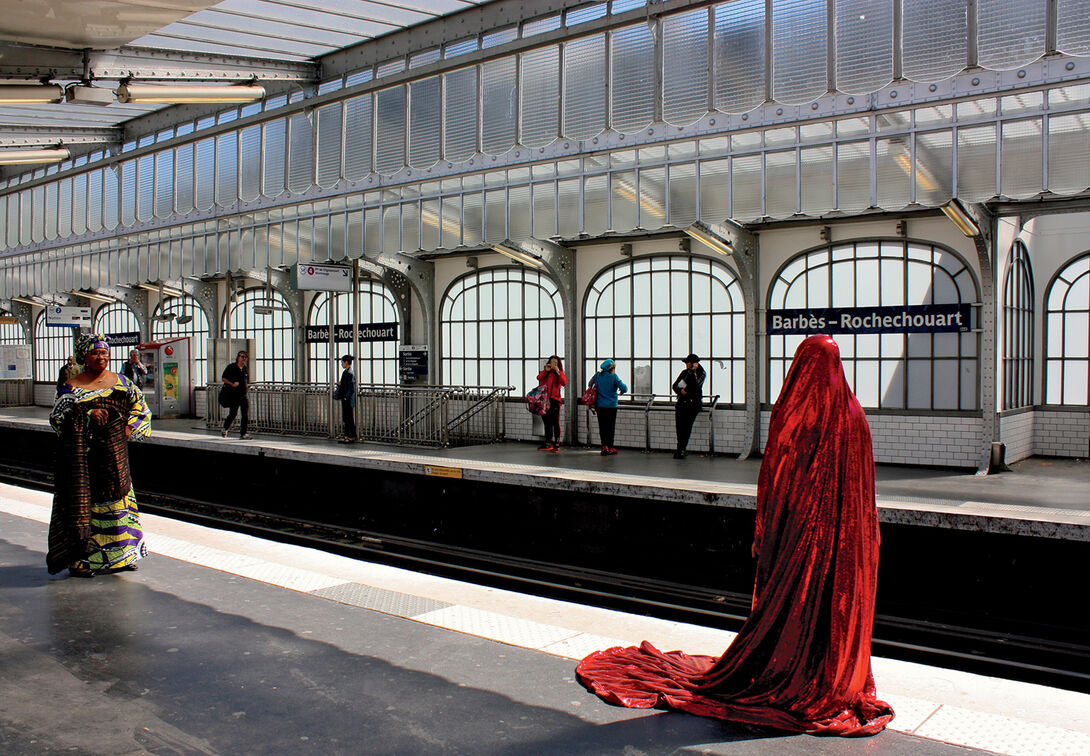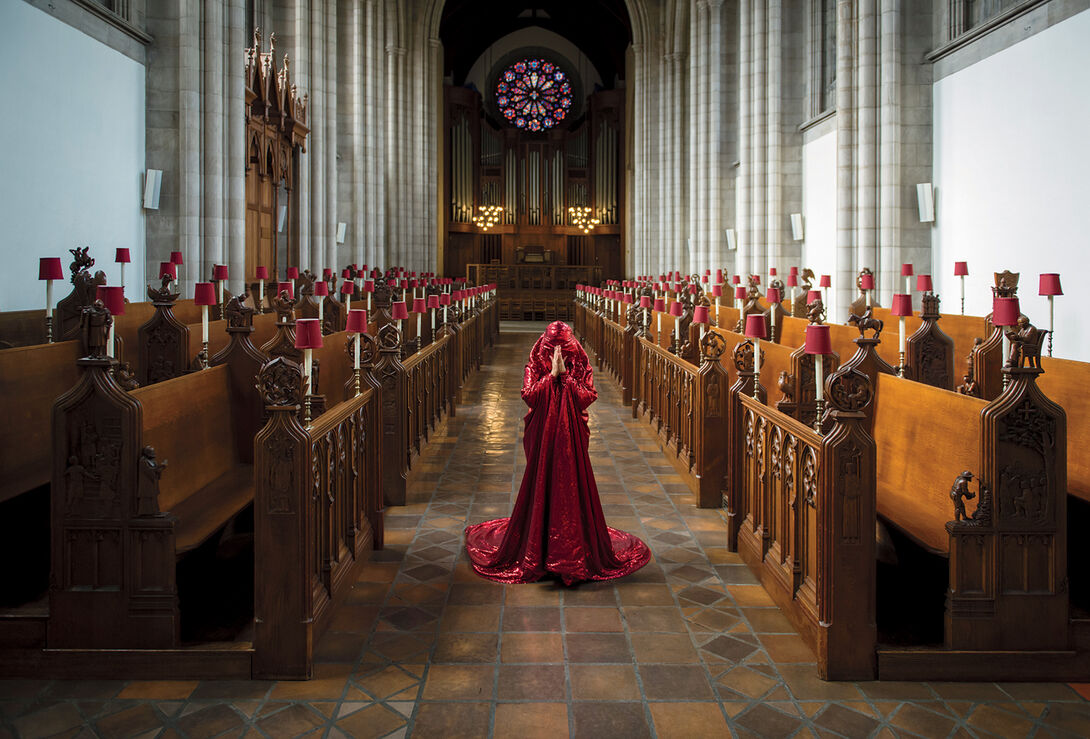 Cloaked in a red sequin chador or "Muslim" headdress, internationally renowned artist Anida Yoeu Ali (MFA 2010) staged public performances across Europe, the United States, and in Hong Kong. Asking the question, "What is it you fear?" The Red Chador uses religious aesthetics to provoke ideas of otherness through encounters that challenge the unsuspecting publicʹs perception and fears of "the other." Acutely aware of the global rise of Islamophobia, Ali feels particularly disturbed by American attitudes and policies that perpetuate religious intolerance and embolden Islamophobes. The first series of performances was commissioned for the Palais de Tokyo in Paris in April 2015 as part of the Secret Archipelago exhibition and as Aliʹs response to the Charlie Hebdo killings.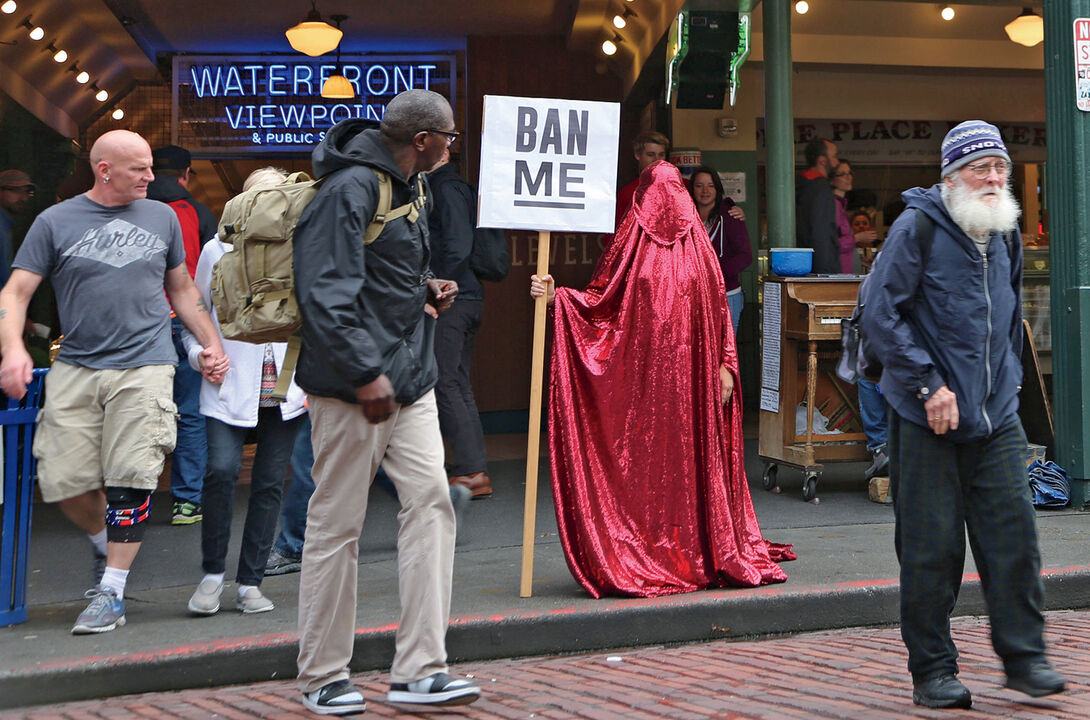 In Seattle and Hong Kong, Ali carried a sign that states "Ban me" on one side and "I am a Muslim" on the other. In Washington, DC, her character, the Red Chador, stood silently on a platform filled with American flags. In her other performances, the artist could be found walking across campus grounds and abandoned lots, along main streets and side streets, and into churches and picket-fenced backyards. Ali asks, "If you encounter the Red Chador, would you fear her or walk with her? Would you help her across the terrain or would you block her path? Would you take a moment to notice her? Would you care at all?"
Aram Han Sifuentes, Lecturer in Liberal Arts and Fiber and Material Studies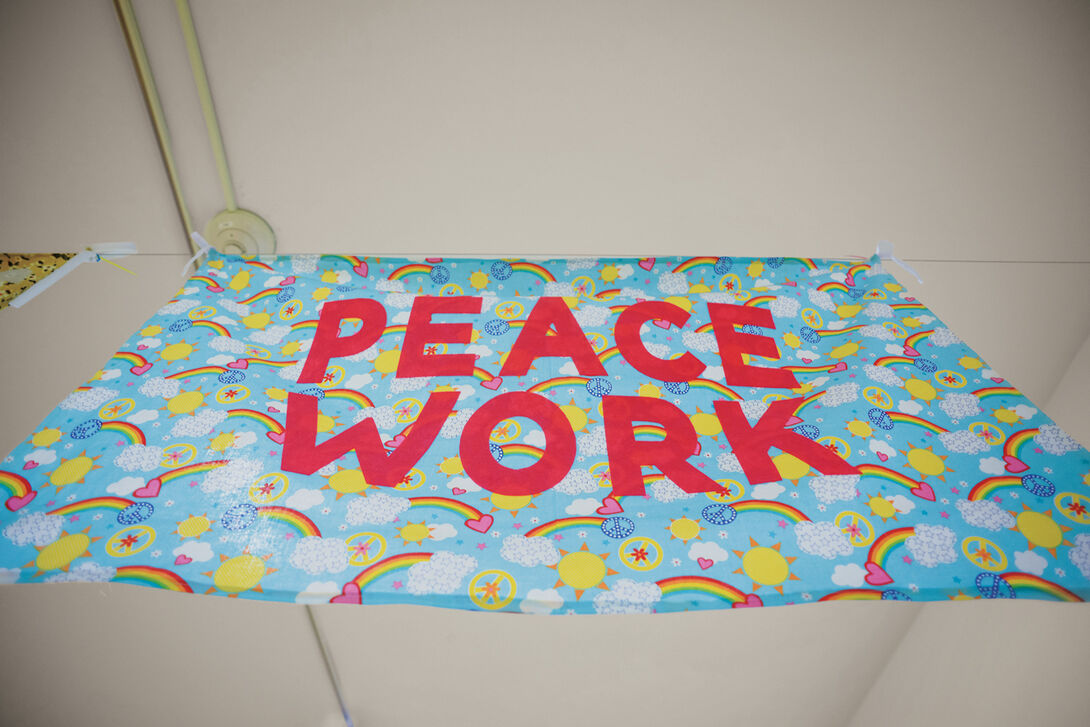 Aram Han Sifuentes (MFA 2013) uses needle and thread to mine from her experiences as an immigrant and address issues of labor and identity politics. Following the 2016 US elections, she began offering protest banner making workshops as a way to resist fear and hatred and bring people together in solidarity through making. Sifuentes' Protest Banner Lending Library in the Chicago Cultural Center from February 20 to May 18, was a communal sewing space for people to make their own banners, support each other's voices, and check out handmade banners to use in protests. The banners carry the histories of the hands that made and hold them and the places they have traveled and will travel.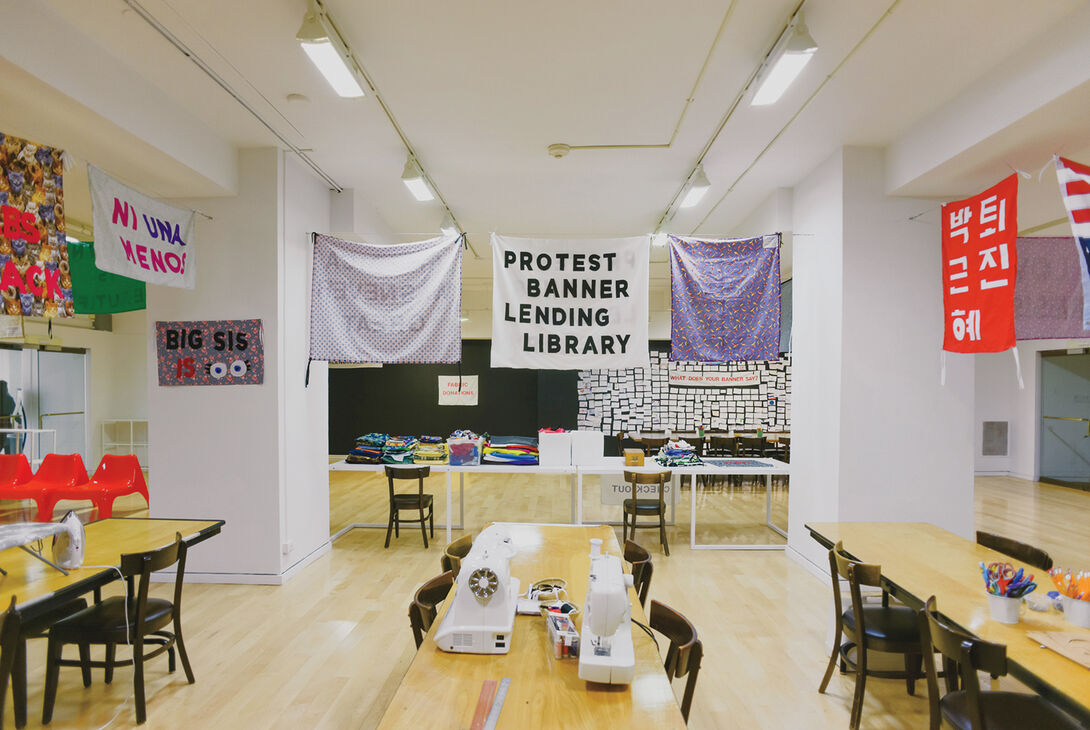 Jan Tichy, Assistant Professor of Photography and Art and Technology Studies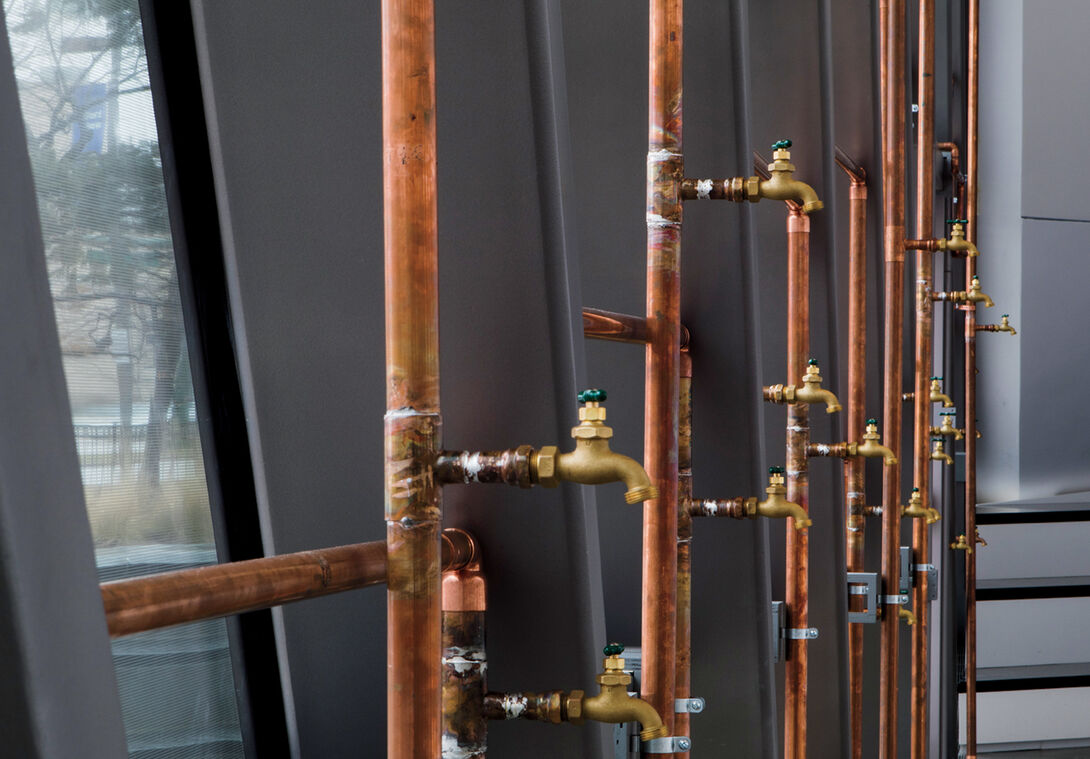 In 2014, the city of Flint, Michigan, came to the forefront of regional and national consciousness when it switched its water supply to the Flint River, leading to high levels of contamination and health problems for many residents. Artist Jan Tichy (MFA 2009) was invited by Assistant Curator Steven L. Bridges (Dual MA 2009) to address the issue in an exhibition at the Eli and Edythe Broad Art Museum at Michigan State University. Bridges explains, "Jan worked with students from Carman-Ainsworth High School in Flint and Everett High School in Lansing to explore how creative expression can communicate themes of social and restorative justice." The interactive exhibit Beyond Streaming: A Sound Mural for Flint was made entirely of copper pipes running from ceiling to floor along the walls of the museum. Visitors could turn on faucets and hear poems and stories narrated by students. Beyond Streaming offered a nuanced and poetic way of coming to terms with the situation in Flint and amplified voices previously unheard.
Apichatpong Weerasethakul
Apichatpong Weerasethakul's (MFA 1998, HON 2011) work reveals stories often excluded in history in and out of Thailand: voices of the poor and the ill, marginalized beings, and those silenced and censored for personal and political reasons. Apichatpong Weerasethakul: The Serenity of Madness is curated by Gridthiya Gaweewong (MA 1996) and produced by Independent Curators International, New York. This solo exhibition, on view in SAIC's Sullivan Galleries from September 16 to December 8, presents a selected survey of rarely seen experimental short films and video installations by Weerasethakul alongside his photography, drawings, sketches, and archival material that explore threads of sociopolitical commentary. His passionate positions regarding class, labor, sexuality, science, and spirituality have informed his practice throughout his career. Read the Q&A with Weerasethakul.