VAP Distinguished Alumni Lecturer: Wafaa Bilal (MFA 2003)
Image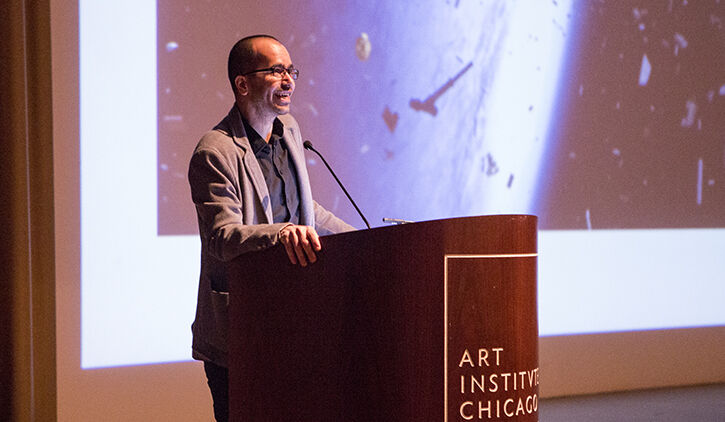 by Carlos Antonio Piñón (BFA 2017)
Iraq-born artist Wafaa Bilal (MFA 2003) returned to SAIC to kick off the Visiting Artists Program spring 2015 lecture series. Bilal is currently an Assistant Professor at the Tisch School of the Arts at New York University whose online and performative work invites the audience to interact in dialogues concerning political hypocrisy and dynamic encounters.
Bilal recounted his early experiences with artwork as a teenager in Iraq. His passion for demonstrating social conditions prompted him to "enlist" at the Academy of Baghdad to study art, but he was denied entry due to his family's political involvement against Saddam Hussein's regime. Posed with threat of being sent off to war, Bilal became a refugee rather than fighting. Bilal continued his art practice, learning English as a student at the University of New Mexico for his bachelor's degree (1999), then at SAIC for his Master of Fine Arts.
In 2007, after hearing an American soldier speak about her involvement in directing drones, and just three years after losing his brother to a drone strike, Bilal proposed a project involving people living in the comfort zone's disconnect with the Iraq War: "Shoot an Iraqi." The project, officially titled Domestic Tension, was a performance piece wherein Bilal lived in a gallery for a month with a robot connected to the internet, which gave people the ability to shoot him with a paintball gun. Having more than 60,000 paintballs fired during the duration of the project, Bilal spoke about the negative aspects: hackers, bandwidth limitations, PTSD, and other issues. He also spoke about the positive aspects: strong Chicagoan support, a band of anonymous people who stepped in to protect Bilal, and a generous man known as Jason who fixed logistical issues and combatted hackers.
Bilal discussed another controversial work, Dog or Iraqi, in which he prompted the audience to choose between himself and a dog to be subjected to water boarding. To People of Ethical Treatment of Animal's (PETA) relief, Bilal subjects himself to the interrogation method rather than the dog.
In 2008, Bilal returned to his Art and Technology roots with Virtual Jihadi, an adapted video game featuring the assassination of former President George W. Bush. The video game installation, which was intended to expose hypocrisy and racism, prompted former Public Works Commissioner Bob Mirch to protest and close the exhibition first at the Rensselaer Polytechnic Institute, then at the Sanctuary for Independent Media, calling the work "an act of terrorism." A lawsuit resulted in favor of Media Alliance, the nonprofit organization that runs the Sanctuary for Independent Media.
Other works mentioned include ...and Counting (2010), which took form as a map of Iraq tattooed on Bilal's back. A dot for every Iraqi death was tattooed on the map in ink visible only under black light while the audience was invited to read names of the deceased. In 2010, Bilal surgically implanted a camera on the back of his head. Called The 3rd I, the camera would photograph every minute for an entire year, resulting in thousands of images of banality. From 2003 to 2014, Bilal recreated images of places in Iraq that had been destroyed. Using human ashes, among other media, he built miniatures to materialize the significance of loss. Bilal continued with I Don't Know Their Names in 2014 by using glossy white paint on the white gallery space walls to commemorate the Iraqi civilians who have since perished in the war efforts—their names only illuminated when the sunlight hits at a certain angle.
Bilal concluded his lecture with a sneak peek of his newest project, Canto III. Influenced by the Ba'ath regime's previous proposal for a gold statue of Saddam Hussein, Bilal created a Kickstarter campaign to help fund producing a suite of bronze sculptures in collaboration with US veterans. As Bilal continues to unmask the injustices produced by war and oppression, public support for his work is growing. The campaign has since surpassed its $12,000 goal.