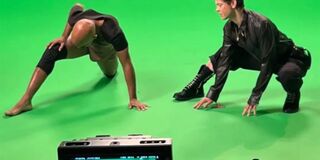 Motion Capture Workshop
With SAIC faculty member Anneli Goeller and artists Elisabete Yoon Ju Seonwoo, aka Kerberus (BFA 2023), and WooYeon Kim (BFA 2022)
Wednesday, October 4, 4:00–6:00 p.m.
SAIC Galleries, Lower Level 1, 33 E. Washington St.
In conjunction with the exhibition Jacolby Satterwhite: Spirits Roaming on the Earth, SAIC Galleries will be offering an interactive motion capture workshop open to the SAIC community (all SAIC students, faculty, staff invited) and the public (18+). Jacolby Satterwhite is a leader in the new media practice of incorporating dance and performance into virtual worlds, and one of the technological processes he uses is motion capture. Originally stemming from the film industry and previously requiring inaccessible amounts of funding and equipment, motion capture can now be done in a web browser. Join SAIC's community of experimental 3D animation artists to learn more about this process for your own artistic practices and to further understand and access Satterwhite's work. RSVPs encouraged but not required. Please email exhibitions-saic@saic.edu if you plan to participate in the workshop. 
Anneli Goeller is a Lecturer in SAIC's Film, Video, New Media, and Animation department, and an artist and poet who uses 3D simulation to speculate that the creation of algorithmic selves expands the concept of personhood. They teach the class Digital Bodies Performed.

Elisabete Yoon Ju Seonwoo, aka Kerberus (they/she), explores the artistic language of liberation in art & technology and new media dance performances and navigates her living experiences as a woman of color in a metaphysical space. She is one of the founding members of the Chicago Krump dance collective, Chibuck.
WooYeon Kim is a SAIC New Media and Visual Communication alumni based in Chicago. She bends digital software against its capitalist origin to reimagine a more liberated, digitally artistic landscape that transcends the confines of profit and replaces artistic authority back to the artist and community. She is currently a motion graphic designer.

Jacolby Satterwhite: Spirits Roaming on the Earth is on view at SAIC Galleries from September 11 to December 2, 2023. Admission and programming are free and open to the public. This exhibition features contemporary art with adult content and is intended for mature audiences.