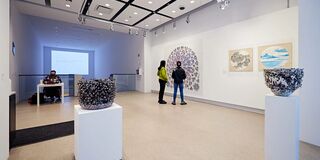 Graduate Exhibition One 2024
Graduate Exhibition One is the culminating presentation of 58 MFA candidates in SAIC's class of 2024, and an opportunity for them to present new and ambitious work to the public in the SAIC Galleries. Graduate Exhibition One is the first of two graduate exhibitions this spring.
Visiting SAIC Galleries
SAIC Galleries welcomes the SAIC community and members of the public to visit the galleries in person. Admission is free. Appointments are encouraged. Please schedule your visit here.
*All visitors to SAIC Galleries must show a state-issued picture ID.
SAIC Galleries
33 E. Washington St.
Gallery Hours: Monday–Saturday, 11:00 am–6:00 pm