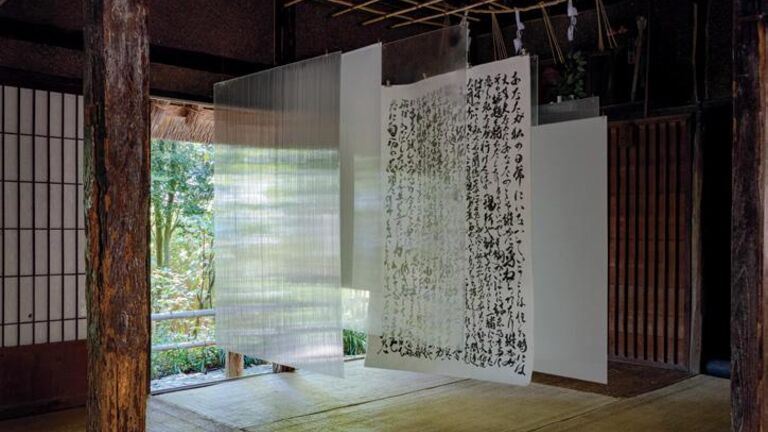 Work from SAIC student Billie Carter-Rankin
Chicago's Creative Capital
Chicago is a global cultural center that's full of opportunity. It's also a diverse city of neighborhoods and strong communities, a welcoming place where creativity thrives. We feed Chicago's creative energy, and the city feeds ours. SAIC alums settle here to make work, open galleries and studios, and power Chicago's creative industries. 
We are Chicago: Complex, diverse, open, and engaged with the world.
Building Community
Chicago is a community-centric city, and SAIC shares its ethos of mutual support. Meet Vincent Uribe (BA and BFA 2013), who inherited a gallery as a student and now runs it as a place to bring people together.
"A part of the reason I do the work that I do is to give back to Chicago for providing the place and support to discover who I am as a leader. Promoting and connecting people in Chicago is integral to my mission of community building."
"We're meshed with the city. Chicago is our campus." - TK
Places of Connection
We asked SAIC faculty about the places and experiences that help bind them to the city.
 
José Lerma, associate professor in SAIC's Painting and Drawing Department, combines politics and humor in his work. Among his favorite Chicago spots: the Art Institute of Chicago museum, where he has been making a drawing based on every painting in the old wing. "There's no frames dividing anything. It's just one giant painting that blends into the next, into the next."
Sherwin Ovid (BFA 2007) moved to Chicago from Texas to study at SAIC and now teaches at Northwestern University. He still gravitates to spots that he loved as an undergrad, among them Gramaphone Records—a record store doubling as a community hub—and the Afro-Latin cultural center Segundo Ruiz Belvis, where he learned about Bomba.
For more than 150 years, SAIC's artists and designers have been inspired by the wonders and complexities of living here. Alums Teresita Carson (BFA 2018), Anthony Sims (MFA 2022), and Bun Stout (MFA 2020), Associate Professor Adam J. Greteman, and Professor Emerita Anne Wilson talked to the School of the Art Institute of Chicago magazine about how the city has rooted and helped grow their work.
Rooted in History
SAIC's campus in downtown Chicago occupies buildings that are rooted in local history. Iconic spaces narrate the city's story.
 
The Art Institute of Chicago
SAIC's journey began in this Beaux-Arts building, now a world-renowned museum exhibiting 5,000 years of history.
Lakeview Building
Once upon a time Chicago's City Hall, this historic building currently accommodates SAIC facilities.
MacLean Center
A former elite athletic club, this Chicago landmark now serves SAIC students as a learning space.
Sharp Building
Designed by the legendary Mies van der Rohe, this modernist masterpiece houses SAIC instructional shops and other facilities.
Sullivan Center
Richly ornamented, this historic building is the current home of SAIC's Architecture and Interior Architecture departments.
Jones Hall
An early Chicago School architectural icon, Jones Hall once neighbored the "world's busiest corner" and now provides an inspiring space for the SAIC community.